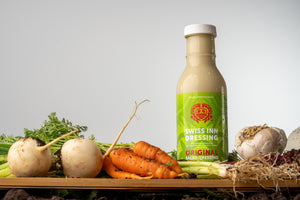 Proudly Made In Hawaii
ROOTS
Veggies Never Tasted So Good
Savory. Velvety. Unforgettable.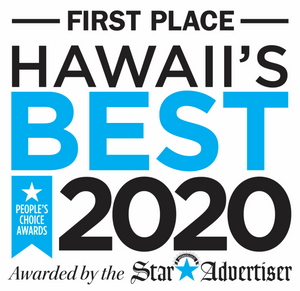 🏆 Voted 1st Place 2020 and 2021, Finalist 2022: Local Bottled Salad Dressing
THANK YOU to long time fans who dined in at the restaurant and new fans that are still falling in love with our dressing.
Voted Hawaii's Best Salad Dressing
We're the classic salad dressing people have been looking for everywhere. People remember it. Talk about it. All these years later...crave it.
ハワイの家庭の味を是非皆様の食卓に!スイス生まれホノルル育ち地元の人に愛されてきた味をお楽しみ下さい。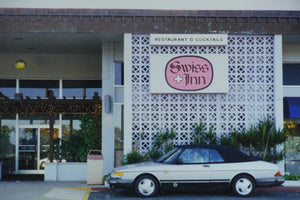 Hawaii's Classic 🌴
Honolulu locals fell in love with the Swiss Inn restaurant. From 1982-2000 the restaurant built a reputation as one of the best places in Honolulu for a family to enjoy high quality, authentic Swiss cuisine.
ホノルルのローカルに愛されたSwiss Innレストラン。1982年ー2000年の18年間に家族で上質な本物のスイス料理が味わえるホノルルで1番のレストランと評価されました。
Buy The Classic House Salad Dressing
Eat More Vegetables 🍅
Veggies should be part of your diet. Why not enjoy them and look forward to eating more?!
野菜嫌いな人にお勧めです。このドレッシングでサラダ、野菜がたくさん食べれるかも?!
Buy Now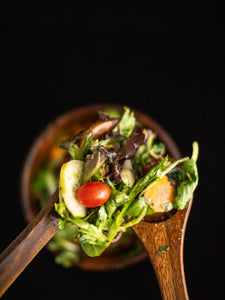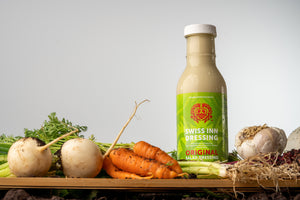 Chilled Produce
Find our bottles in the chilled produce section at listed locations.
We are gaining momentum!
Thanks to you, we are getting into more locations statewide.